Passive Entry Passive Start Systems
Today a vast majority of cars are being equipped with Passive Entry Passive Start (PEPS) Systems. PEPS Systems provide an added level of security and convenience which has become increasingly popular with automotive users. STRATTEC recently introduced a complete PEPS System on the new Ram 1500 truck.
PEPS Systems consist of many components that utilize STRATTEC's expertise within automotive and commercial markets in highly integrated products designs.
Since PEPS Systems are always evolving, STRATTEC is continually working on next generation systems to address consumer feedback and technology needs.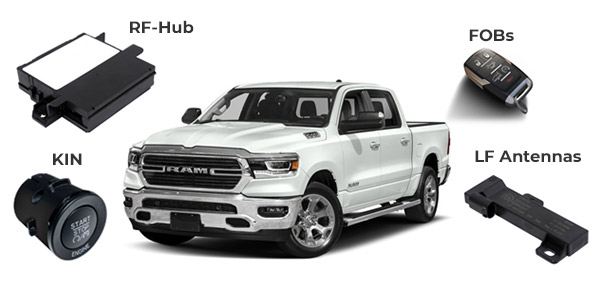 Features & Benefits
Automatic (passive) unlock of the car without needing to fumble for the FOB or hold the key in your hand
Pushbutton engine start negating the need for key insertion
Automatic (passive) unlock of the car without needing to fumble for the FOB or hold the key in your hand
Precision localization to meet Thatcham requirements for FOB position (inside vs. outside of car) with 100% vehicle coverage.
Simplifies the act of driving for the consumer (Intuitiveness)
Highly integrated backup system (in case of loss of FOB battery power or vehicle battery power)